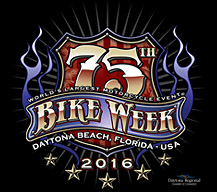 Stan Loomis has been an avid motorcycle rider for many years. He loves cruising around on his bike through sunny florida and attending motorcycle events such as Biketoberfest and Bike Week. Earlier this month, Stan Loomis had the opportunity to attend the 75th annual Bike Week in Daytona Beach, Florida. Each year, riders, businesses, and other community members gather at this event to celebrate and promote their passion for motorcycles. Bike Week 2016 took place from the 4th to the 13th of March. Listed below are some of the highlights from this historical event.
Harley-Davidson Motor Company
Harley-Davidson was the official motorcycle of Bike Week 2016. From March 3rd until the 12th, Harley-Davidson held an event at the Daytona International Speedway. Visitors could check out the newest 2016 motorcycles on display, take a free test ride, purchase apparel, parts, and accessories, and much more. Harley-Davidson also put on a sweepstakes where guests could purchase tickets for a chance to win a brand new bike.
Budweiser Clydesdale Parade
As the official beer of Bike Week, Budweiser brought its world famous Clydesdales down to Daytona Beach where they paraded down Main Street over the weekend of March 5th and 6th. Budweiser also provided tons of free souvenirs and other apparel for friends and family to enjoy.
RAM Trucks
RAM trucks held a display booth at Destination Daytona where guests could enjoy games, complimentary gifts, raffles, prizes, and more. Also featured was the Guinness World Record "Raminator" monster truck and trailer.
Buckcherry Performance
Buckcherry performed live at Bike Week 2016 to open up an incredible and exciting weekend. Performing at Jesters Live in Ormond Beach, Buckcherry got the weekend rocking and rolling playing some of their greatest hits along with some new and unfamiliar tunes.
If you missed Bike Week 2016, be sure to check out the rest of the events and start preparing for next year. You can also begin preparing for Biketoberfest 2016 taking place from October 13th to the 16th. While having fun at these great events, Stan Loomis would also like to remind everyone about important Motorcycle Safety tips. Knowing the rules of the road and how to protect yourself from harm or injury will keep events like Bike Week fun for everyone for years to come.